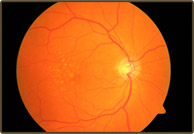 Dry ARMD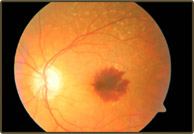 Wet ARMD
What is Age Related Macular Degeneration?
The macula is the central part of the retina, which is the light sensitive tissue at the back of the eye. The macula is responsible for seeing objects in detail. Age Related Macular Degeneration, or ARMD, causes progressive loss of central vision, while peripheral vision is preserved.
There are two types of ARMD: dry and wet. Dry ARMD is more common, and causes gradual deterioration in central vision, typically over many years. Dry ARMD is characterised by collections of yellow deposits, called drusen, in the macula.
Wet ARMD occurs less frequently, and is associated with more severe and rapid visual loss. It is characterised by the presence of abnormal blood vessels in the macula, which leak and cause progressive scarring.
Who is at risk of ARMD?
ARMD is commonly associated with the process of ageing. It affects one in seven people over the age of 50, and one in three people over the age of 75. ARMD is the leading cause of blindness in Australia.
How is ARMD treated?
ARMD cannot be cured, but treatment is available, and there have been recent advancements in the management of the disease. Early detection and monitoring is important.
Sunshine Eye Clinic has technologically advanced methods for detecting and monitoring ARMD, including digital fluorescein angiography and optical coherence tomography.
Treatment of ARMD is available at Sunshine Eye Clinic including Lucentis, Eylea, and Avastin injections.
For more information visit:
www.mdfoundation.com.au
www.retinaaustralia.com.au
www.retina-international.org
www.ranzco.edu/patient/patient-information/