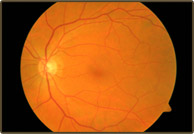 Normal Retina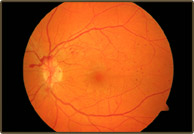 Diabetic Retinopathy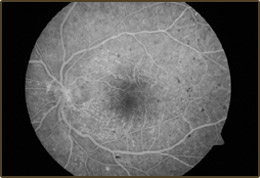 Diabetic Retinopathy pictured during
Fluorescein Angiography
How does Diabetes Mellitus affect the eye?
Diabetes mellitus affects approximately four per cent of the population in Australia. It is associated with an increased risk of glaucoma and cataract formation, and fluctuating blood sugar levels can cause changes in the ability of the eye to focus.
Diabetes can cause also changes in the retina, which is the light sensitive area at the back of the eye. Diabetes can damage the retinal blood vessels, which then become leaky and weak. This process is called diabetic retinopathy.
Who is at risk of Diabetic Retinopathy?
The majority of people with diabetes will develop some changes in their eyes within 15 years of diagnosis.
The risk of diabetic retinopathy increases with poor control of blood sugar levels, and the length of time the patient has suffered from diabetes. Other risk factors include hypertension, high cholesterol and cigarette smoking.
How is Diabetic Retinopathy treated?
People with diabetes should undergo regular screening for diabetic retinopathy, as early detection and treatment are essential to prevent its progression.
Laser treatment of damaged retina is usually very effective, however in more advanced cases surgery may be required.
Sunshine Eye Clinic has comprehensive facilities for screening, monitoring and treating diabetic retinopathy, including digital photography and retinal imaging, fluorescein angiography, and advanced laser treatment.
For more information visit:
www.diabetesaustralia.com.au