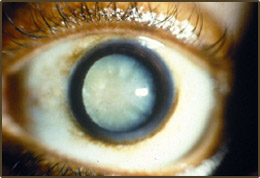 What is a Cataract?
A cataract is a clouding of the lens inside the eye, which is normally clear. The lens contributes to focusing light accurately in the eye. Cataracts result in diminished visual performance, especially in low light, at night, or when reading small print. Cataracts usually progress slowly, but when advanced can lead to blindness.
Who is at risk of Cataracts?
Cataracts are commonly associated with the process of ageing, but can result from certain medical conditions, such as diabetes mellitus and previous ocular injury. Occasionally cataracts can be present at birth.
How are Cataracts treated?
It is possible to reverse visual impairment caused by cataracts with cataract surgery. Cataract surgery has evolved into a highly refined procedure, in which the cataract is removed and an artificial lens inserted. To optimise the visual result, an appropriate lens must be selected for each individual patient.
Cataract surgery is typically undertaken when visual impairment interferes with the daily life of the patient. It is usually performed under a local anaesthetic, together with a mild sedative, and the patient is able to go home shortly after surgery.
The Ophthalmologist Dr Daniel Black is highly experienced in cataract surgery, using the latest surgical techniques. At Sunshine Eye Clinic we ensure each patient receives the most appropriate lens implant, taking into account their lifestyle and the characteristics of their eye.
For more information visit:
www.ranzco.edu/home/patients/patient-information/